WireGeo is a Cloud Service to Intergate Worldwide "Smart" Devices into a Single GIS Space
WireGeo platform consists of a resilient distributed cloud platform and "smart" controllers, sensors and actuators, connected to it. WireGeo allows you to combine apartments, houses, industrial buildings, streets, neighborhoods and even entire cities quickly into a single managed infrastructure.
Examples of WireGeo ready solutions
Try a Demo User Account and find out how these solutions
look inside from the integrator or developer perspective:
×
Demo Access
Thank you for your enquiry! You'll receive your demo access in a workday or less.
×
Demo Access
We will send the login and password for demo access to the selected solution to the e-mail address you specified below:
How does it Work?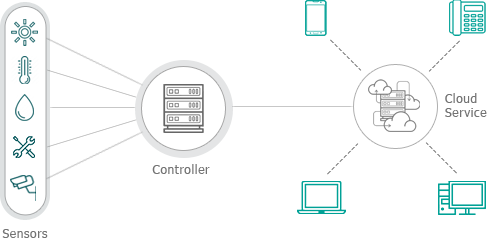 Sensors and actuators which are connected to the automation controller are installed at the facility (for example, in a house). A controller manages the system according to a given script and communicates with the cloud service through the Internet. The 'Internet of Things' devices are connected to the cloud directly, without a controller.
View Compatible Devices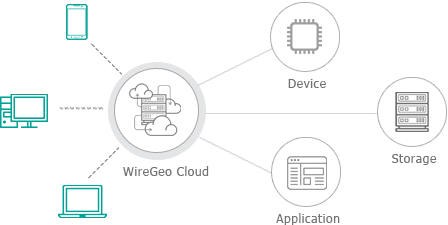 Cloud service lets to manage an object from anywhere in the world from your computer, tablet or smartphone via the intuitive interface, integrates your controllers into a single system and allows them to communicate with each other, receives and stores data from the devices, sends commands to them, keeps the statistics and, if necessary, communicates with external services and applications.
View Cloud Capabilities
Owners
Create your Smart House or Office by yourself in Three Easy Steps:

1. Sign up for the service and set up an account


2. Choose the needed equipment
Advice: start without any equipment!


3. Connect the equipment to the cloud and start using!
Integrators
Get extra profits from your base of customers
Accelerate installation and configuration of automation systems in more than 2 times
Reduce integration cost in several times
Provide your customers with new features and capabilities
Solve the problem of compatibility for controllers, sensors and protocols of different manufacturers
Developers
Add to your device:
- Cloud Storage
- Web Application
- Mobile Application
Just in several clicks!
Reduce Time-to-Market
Simplify the integration and communication of your devices
Be ready for the "Internet of Things" era
×
Become Partner
Thank you for your request! We'll contact you shortly.
Become Partner ×
Please fill in the form below to become our Partner and get access to Partner Account:
Stay Up to Date!
Be first who learns about automation innovations, "Internet of Things" devices, controllers,
sensors, solutions, widgets and cloud features that accelerate the development,
the integration and make life better